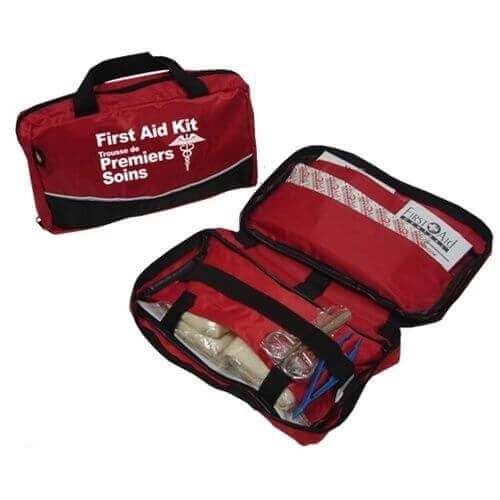 Everything required by WorkSafe BC for a Level 1 Workplace First Aid Kit in an easy access nylon carry bag.
Level 1 Occupational First Aid Kit Contents
1 CPR Pocket Mask in hardcase with one-way valve
6 Pairs of Vinyl Examination Gloves
12 Cotton Tipped Applicators (7.6cm) (3")
1 Paramed Scissors
1 Splinter Forceps (11.5cm) (4.5")
1 Accident Record Book
12 Safety Pins
60 Hand Cleaning Towelettes
24 Benzalkonium Chloride Antiseptic Towellettes
1 First Aid Tape roll (2.5cm x 450cm) (1" x 5yds)
6 Triangular Bandages (102cm x 102cm x 142cm) (40" x 40" x 56")
1 Pencil
50 Plastic Adhesive Bandages (1.9cm x 7.6cm) (0.75" x 3")
30 Plastic Adhesive Bandages (2.5cm x 7.6cm) (1" x 3")
5 Adhesive Knuckle Bandgages
5 Fabric Adhesive Fingertip Bandages
5 Fabric Adhesive Patch Bandages (5.cm x 7.6cm) (2" x 3")
5 Junior Adhesive Bandages
2 Elastic Wrap Bandages (7.6cm) (3")
12 Sterile Gauze Pads (10.2cm x 10.2cm) (4" x 4")
4 Compress Bandages with Elastic Tails (10.2cm) (4")
4 Abdominal/Combine Pads (20.3cm x 25.4cm) (8" x 10")
1 Nylon Carry Bag
Kit Dimensions
Width: 42cm (16.5")
Height: 15cm (5.9")
Depth: 33cm (12.9")
Weight: 1.36kg (2.9lb)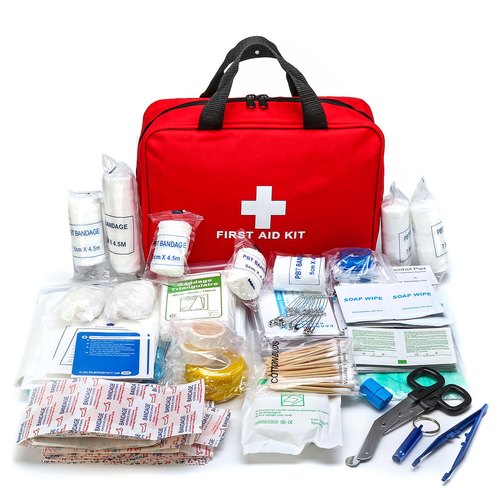 The Canadian Red Cross Basic First Aid Kit helps you stay prepared for a wide range of situations and emergencies. The Basic First Aid Kit includes the tools and equipment you'll need to deal with deadly bleeds, burns, sprains, eye injuries, small wounds and environmental injuries. Innovative features include the Quick Bandage release tabs, easy to find reflective stripes on the outside of the kit, and a wallmount option.
Basic First Aid Kit Contents
1 CPR Pocket Mask with one-way valve
2 Pairs Vinyl Gloves
10 Cotton Tip Applicators
5 BZK Towelettes
5 Hand Cleansing Towelettes
5 Sting Relief
1 Burn Relief Gel
8 Quick Bandages (2.5cm x 7.2cm)
12 Quick Bandages (1.9cm x 7.2cm)
2 Cloth Patches (5cm x 7.5cm)
4 Cloth Knuckle Bandages (3.8cm x 7.6cm)
4 Cloth Fingertip Bandages (4.4cm x 5.1cm)
5 Butterfly Closures (0.95cm x 2cm)
3 Sterile Gauze (5cm x 5cm)
3 Sterile Gauze (7.5cm x 7.5cm)
1 Roll of Paper Tape (1.27cm x 23cm)
2 Sterile ABD Pads (13cm x 23cm)
1 Nickel Plated Tweezers (8.1cm)
1 Bandage Scissors (8.1cm)
2 Non-Sterile Roller Gauze (5cm)
1 Non-Sterile Roller Gauze (7.5cm)
1 Non-Sterile Roller Gauze (10cm)
1 Instant Cold Pack (12.7cm x 15.24cm)
1 Elastic Bandage (7.5cm x 4.5cm)
1 Emergency Blanket
1 White Self Adhesive Wrap (5cm x 3.2m)
1 East Strip Forehead Thermometer
1 Canadian Red Cross Pictogram First Aid Booklet
1 Triangular Bandage (non-woven)
1 Biohazard Waste Bag
Kit Dimensions
Width: 23cm
Height: 16.5cm
Depth: 6.5cm
Weight: 0.55kg
Site powered by Weebly. Managed by
iPage