Transportation of Dangerous Goods
Transportation of Dangerous Goods (TDG) Course Summary
Overview
Transportation of Dangerous Goods (TDG) introduces participants to the TDG Act and regulations and explains the requirements for receiving, handling, transporting and shipping dangerous goods, as well as the appropriate response in emergency situations such as spills or accidents. These regulations protect the public and all individuals involved in transporting the dangerous goods by defining dangerous goods and setting specific rules for their transport.
Duration
Approximately 3.5 hours to complete. Online course is self-paced. Participants may leave the course at any time and can resume where they left off. The duration will vary depending on the individual learner and their prior knowledge of the subject matter.
Who should take this Course?
Every day, drivers like you are safely transporting dangerous goods across Canada. It may seem like a simple thing: Drivers doing their job without incident. Transportation of Dangerous Goods (or TDG) is regulated to help you protect yourself, the public, and the environment from damage.

Transport Canada TDG regulations require that, with few exceptions, all persons engaged in the handling, offering for transport or transporting of dangerous goods be trained in the aspects of handling such goods. The content of this course is applicable for all workplaces across Canada, including British Columbia, Alberta, Saskatchewan, Manitoba, Ontario, Quebec, Newfoundland, Labrador, New Brunswick, Nova Scotia, Nunavut, and the Northwest & Yukon Territories.
Completion Requirements
At the end of the online module participants must successfully complete the test. Participants that do not achieve 80% can review the module content and try 3 times, as necessary to advance and complete the course. Upon successful completion, there is a printable Certificate for your records.

Your TDG Training Certificate is valid for 3 years from completion, as long as you do not change employers in that time.
Learning Outcomes
Ultimately, the goal of this course is to provide participants with the information they need to comply with the TDG Act and regulations. By completing this course, they should know how dangerous goods are classified; understand the regulations pertaining to proper documentation, safety marks, means of containment, forbidden goods, exemptions and special provisions; and know the immediate reporting and procedures to follow in the event of an emergency involving dangerous goods.
The requirements for TDG training and certification
Dangerous goods classification
TDG Packing groups
TDG Shipping name
TDG Compatibility groups
TDG Placards and UN numbers
TDG Label requirements
TDG ERAPs (Emergency Response Assistance Plans)
TDG Reporting requirements
TDG Safety marks
TDG packaging and vessel requirements
TDG documentation requirements
TDG schedules
TDG Exemptions
TDG Containers
You will access and complete the workplace Transportation of Dangerous Goods online course modules through a secure personal profile you'll create within the online elearning platform.

As soon as you have registered and paid for your Online Transporation of Dangerous Goods course, you will have immediate access to the course and contents, which you can complete at your own pace from any web-capable computer/tablet/smartphone.


Step-by-Step Instructions
Then click "Buy Now" or "Add to Cart" in the course window/tab that opens in your browser
Assign a username and password for yourself on the elearning platform, or sign in with your existing profile
Enter your billing information and click "Pay Now"
Once you've completed the steps above, you'll be able to assign, access and complete the course at your own pace. You'll also receive an email from the system with the login link and instructions, so you can close your browser any time, and restart where you left off later.

It's important to securely store and remember the specific Username and Password that you've assigned to your elearning profile, so you can login and resume your course from any device. You can save the link to your browser bookmarks, or just return to this page and click the blue button below.

You can also purchase and assign courses for other people, through your personal profile. You can easily assign, manage and track the training and certifications for yourself or your entire organization.

SafeTapp Training Record Management
You may also want to utilize the SafeTapp record management app, to keep track of all your online courses, training and certifications. The SafeTapp system allows you to syncronize your courses and certifiations in a central database, so you always have the most up to date records availalbe right from your phone. The SafeTapp App can be utilized to keep track of health and safety training for individuals, or for the all the staff of your entire organization.

Click here to learn more about using the SafeTapp training record management app to track all your online health and safety courses and training.
Once you have completed the registration process and activated the online workplace Transportation of Dangerous Goods course within your elearning profile, you will be able to move through the individual modules at your own pace. You can start and stop as often as you like, and you can pick up where you left off later.

You will have two attempts to successfully complete the online TDG course modules and achieve a minimum score of 80% on the final test. If you are unsuccessful after the second attempt, you will be required to re-purchase the course and start over with three new attempts. As long as you pay attention to the videos and read the written materials thoroughly, you should have no problem navigating the course and exam process.

Once you have successfully completed all the modules, you can access, download and print your Transportation of Dangerous Goods Certificate, which will be valid for 3 years from the time of completion.
Transportation of Dangerous Goods (TDG)
Introduction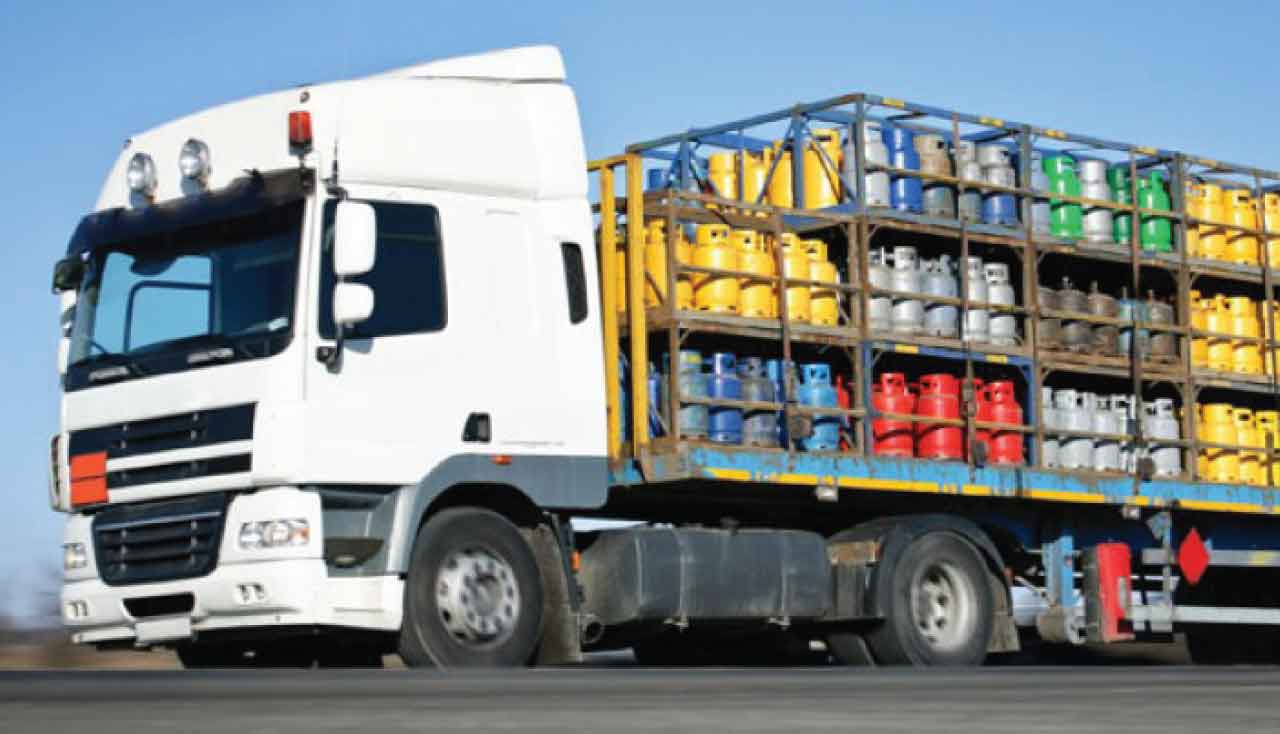 Basic Transporation of Dangerous Goods requirements
2002 Clear Language edition of Canadian TDG Act and Regulations
Safe Packaging Guidelines
Labels, Placards, and Documentation that identify hazards
Emergency Procedures
Emergency Response Planning
Measures to ensure public safety
Appropriate Training
Current TDG Certification
Obtaining correct TDG documentation from the shipper
Storing documentation when leaving dangerous goods
Correct display of safety marks
Replacement of lost or damaged safety marks
Refusal of consignments that do not meet TDG requirements
Fines and personal liability
Module 1: Exemptions and Special Cases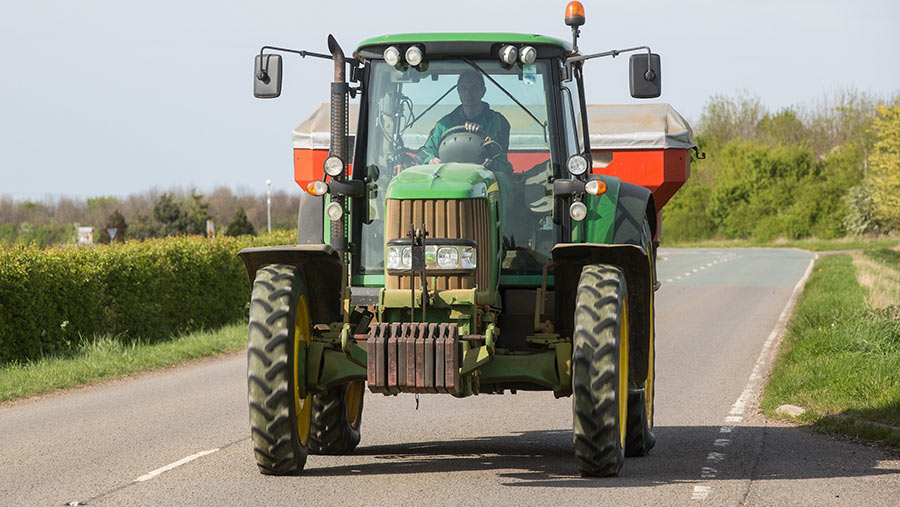 Letter of the Law
Allowances for exemptions
The balance of risk against practical transportation needs
Exemptions based on limited quantity
Schedule 1: Column 6a
Schedule 1: Column 6b
Exemptions based on secure containers
Licensed Farm Vehicles
Dangerous goods used on the farm
Personal Vehicles
Distance transported on public roads
Propane Cannisters
Exemptions based on distance carried
Excepted quantities/volumes
Exceptions based on inner and outer packaging
Special packaging and labelling requirements for limited and excepted quantities
Module 2: Training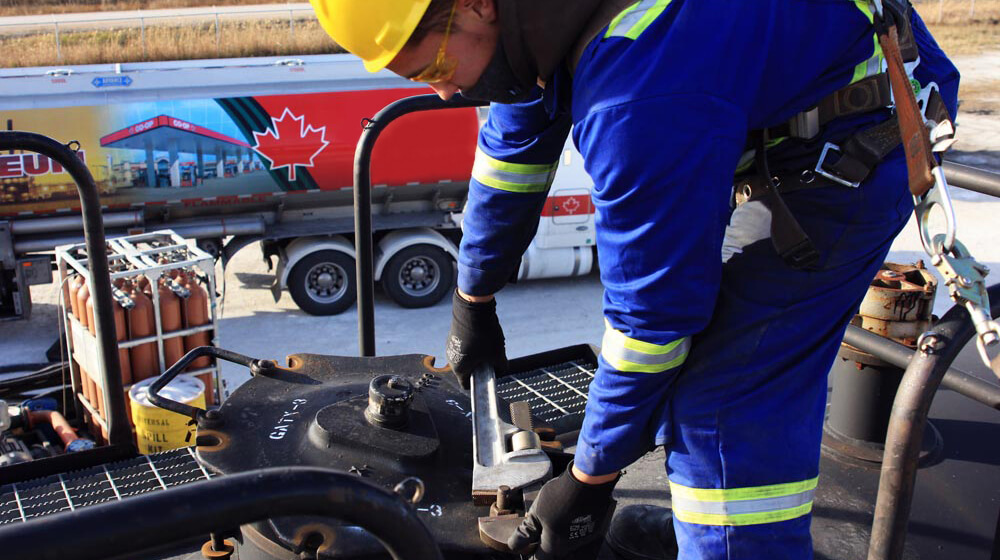 TDG Training Requirements
Employer's TDG Training Responsiblity
Shared responsiblity to follow TDG Regulations
Showing Proof of Training
Expiry of a Training Certificate
Working under the direct supervision of a trained employee
Police Inspectors
Federal Transport Ministry Inspectors
Provincial Transport Ministry Inspectors
Canada Nuclear Safety Commission Inspectors
Training Certification Non-Transferrability
IACO Technical Instructions
IMDG Code
Dangerous Shipping Regulations
Additional Training
Module 3: TDG Classifications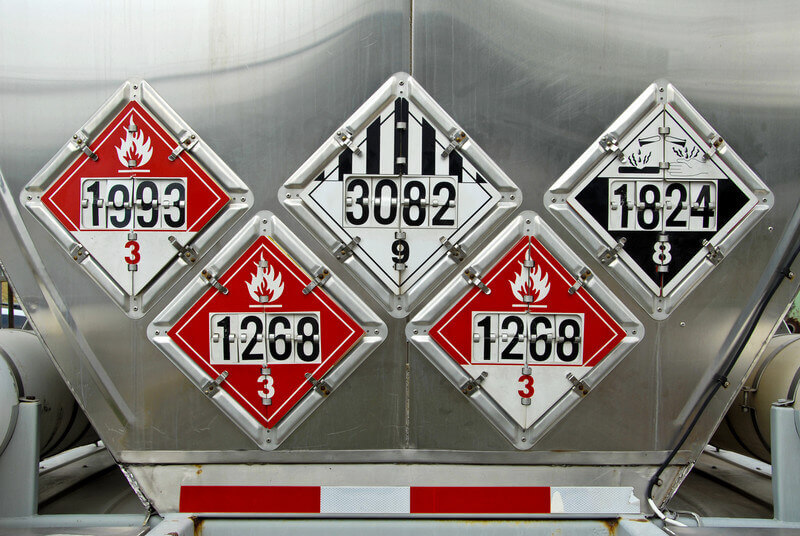 Different TDG Classifications and Divisions
Labelling materials
Primary Class
Subsidiary Class
Packaging Groups
Who is responsible for material classification
Differences between WHMIS and TDG legislation
Importance of correct classification and identification of dangerous goods
What are TDG Classifications
Chemicals that pose a significant risk
United Nations (UN) Recommendations
International Shipping
Nine classes of dangerous goods in Canadian TDG legislation
Class 1 (Explosives)
Class 2 (Gases)
Class 3 (Flammable Liquids)
Class 4 (Flammable Solids, Spontaneous Combustion, Dangerous When Wet)
Class 5 (Oxidizers and Organic Peroxides)
Class 6 (Toxic and Infectious Substances)
Class 7 (Radioactive Materials)
Class 8 (Corrosives)
Class 9 (Miscellaneous products, substances, or organisms)
Additional training to haul Class 1 or Class 7 dangerous goods
Divisions of the Nine Classes
Division 1.1 (Substance or article with mass explosion hazard)
Division 1.2 (Severe fragment projection hazard)
Division 1.3 (Mass fire hazard and minor blast or projection hazard)
Division 1.4 (Minor explosion hazard)
Division 1.5 (Blasting Agents)
Division 1.6 (Extremely insensitive with mass explosion hazard)
Division 2.1 (Flammable Gases)
Division 2.2 (Non-Flammable, Non-Poisonous, Non-Corrosive Gases)
Division 2.3 (Toxic Gases harmful to living beings through inhalation, swallowing, or contact with skin)
Division 3.1 (Flash Point less than -18°C)
Division 3.2 (Flash Point between -18°C and 23°C)
Division 3.3 (Flash Point between 23°C and 61°C)
Division 4.1 (Flammable solids which are readily combustible and burn vigorously and persistently)
Division 4.2 (Spontaneously combustible substances)
Division 4.3 (Substances that become dangerous when wet)
Division 5.1 (Oxidizing Materials)
Division 5.2 (Organic peroxides or strong oxidizing agents)
Division 6.1 (Toxic Substances)
Division 6.2 (Infectious Substances)
Primary and Secondary Classes
Packing Groups
Class 6.2 Risk Groups
Class 7 Categories
Shipping Name
Fully Specified / Not Fully Specified
Product Identification Number (PIN)
Explosive Combatibility Groups
TDG/WHMIS
Module 4: Emergency Response and Reporting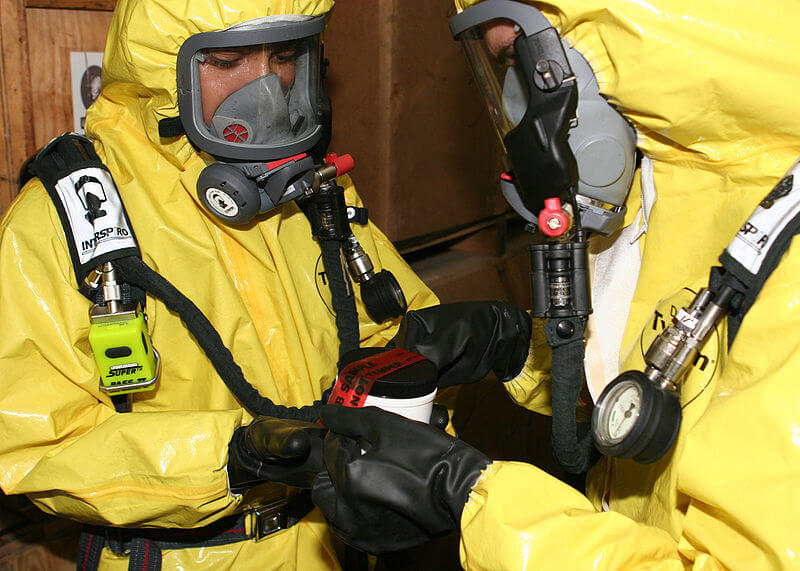 Emergency Response Assistance Plan (ERAP)
Requirements to create an ERAP
Taking appropriate emergency actions
Protecting yourself
Keeping people and wildlife away from the accident scene
Preventing the situation from getting worse
Protecting the environment
Incidents requiring immediate reporting
Reporting requirements
Company Policies
Emergency Reports
Incidents leading to release or anticipated releases
Release Reports
Anticipated Release Reports
CANUTEC
30-Day Follow Up Reports
Module 5: Safety Marks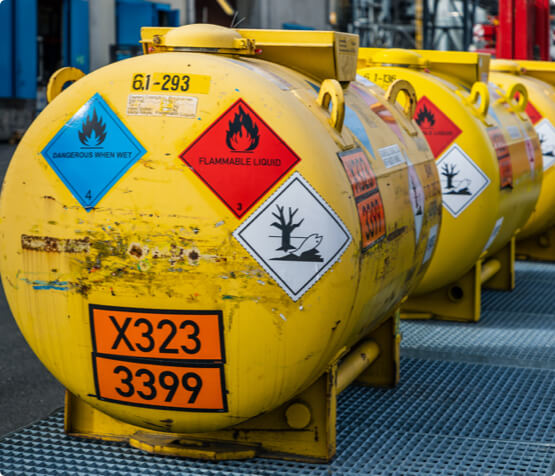 Description of TDG Safety Marks
Display and Removal Requirements for TDG Safety Marks
TDG Labels
Sub-Class Labels
Removal of Labels
Markings
TDG Placards
Sub-Class Placards
Compartmentalized Tanks
TDG Orange Panels
TDG Signs
TDG Marine Pollutant Marks
TDG Numbers
TDG Letters
TDG Abbreviations
Module 6: Documentation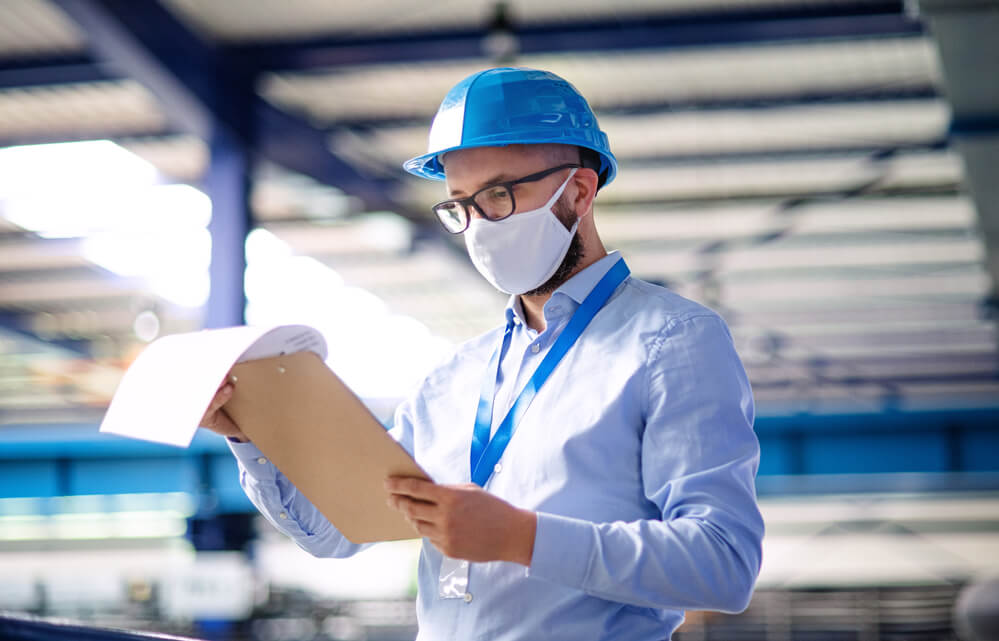 TDG Shipping Document Requirements
Completion of standard TDG Shipping Documents
Shipper's Responsibility
Carrier's Responsibility
Standard Information
Dangerous and Non-Dangerous Goods
TDG Permits
Waste Manifest
Proof of Classification
Shipments to or from the United States
Record Keeping
TDG Regulations Schedule 1
TDG Regulations Schedule 2
TDG Regulations Schedule 3
Module 7: Containers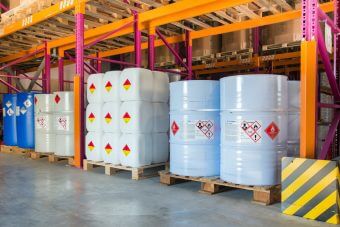 General Containment Requirements
Visual Container Inspections
Internal Container Inspections
Container Pressure Tests
Container Leakage Tests
TDG Container Capacities
Manufacturer's Maximum Fill Capacity
Small TDG Containers
UN Certification Marks
Large TDG Containers
TDG Load Securement
National Safety Code Standard 10
Selecting the proper container
Drums
Wooden Barrels
Jerri Cans
Composite Packaging
Boxes
Bags
Applicable UN Numbers
Site powered by Weebly. Managed by
iPage